Where
Community Room (downstairs)
Image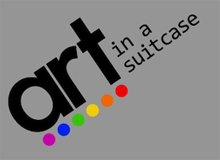 Art In A Suitcase programs combine art, natural science, story telling and multicultural activities. All Art In A Suitcase programs are based on the idea that learning, creativity, imagination, sharing and fun go together.
Mary Tooley, the suitcase lady, says, "I like to think of Art In A Suitcase as a little natural history museum that travels. The young people and I talk about the people, places and animals that make planet earth such a wonderful home. Each suitcase is filled with treasures, both natural and man made."
Mary Tooley taught art to young children for 20 years. She now does Art In A Suitcase part time, presenting her original programs to multitudes of children each year. In addition, Mary is a free lance graphics designer and writer.